Repairs Project Continues: Library Shifts to All-Virtual Services

The Crystal Lake Public Library has shifted to offering all-virtual services as repairs and renovation work expand to the interior portion of the building. Since the State of Illinois has implemented stricter guidelines due to the rise in COVID-19 cases in the community, the Library is taking advantage of this time to close the building and proceed with the improvements, which will take several weeks to complete. Closing the building and having staff work remotely will enable contractors to finish the work in a much shorter time period. While the building is closed, CLPL will continue to offer its eLibrary collection, virtual services and virtual programs.
Crystal Lake Public Library Building Update
Critical repairs are scheduled for Fall 2020/Winter 2021. An updated assessment of the condition of the Library building identified critical areas of repair to address, which include:
o Leaking – Resealing of the building including tuckpointing, replacing failed windows, resealing perimeter, repairing the roof
o Safety –Tripping hazards in parking lot, walkways and stairways; insufficient exterior/interior lighting
o HVAC (Heating, ventilation, air-conditioning) – Repair/replace components of the Library's three HVAC systems that are at, or past, end-of-useful life
New Service Amenities
A drive-up materials return drop and drive-up service window will be added to the east side of the building, two amenities that have long been requested by the community
An automated materials handling system will be installed, which will shorten the amount of time materials are listed on a patron's account
New self-checkout stations will be installed
Public and staff space within in the building will be reconfigured to meet social distancing requirements for COVID-19
The Library's Aging HVAC System – Need for Ventilation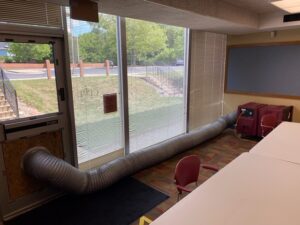 Pictured: A newly installed, temporary HEPA filter draws air from within the Library building and vents it outdoors. The filter, along with two others, were installed to help mitigate the impact of COVID-19.
o Ventilation standards under COVID-19 require more fresh air brought into the building and upgraded filter systems
o Evaluation of Crystal Lake Public Library's fragile, aging HVAC system by professionals revealed areas of great concern that impact the number of people who can safely be in tight spaces under COVID conditions
The Importance of Efficient HVAC Systems in Public Buildings
The "missing link" in the transmission of the (Corona) virus is related to HVAC systems in public buildings such as schools and libraries, according to Stephen Ashkin, president of The Ashkin Group,  an international consulting firm working in the professional cleaning industry.
"Good ventilation is crucial to reducing the transmission of the (Corona) virus," Ashkin said in an article on CleanLink.com. "Scientific studies have found [that] people are over 18 times more likely to contract the virus indoors than outdoors, illustrating the importance of ventilation."
Click here to read the full article, "HVAC – the Missing Link in Preventing COVID-19 Transmission."