CLPL Building Update: Repairs 2020

Crystal Lake Public Library Building Update
Critical repairs scheduled for fall 2020/winter 2021. During 2019, an updated assessment of the condition of the Library building identified critical areas of repair to address, which include:
o Leaking – Resealing of the building including tuckpointing, replacing failed windows, resealing perimeter, repairing the roof
o Safety –Tripping hazards in parking lot, walkways and stairways; insufficient exterior/interior lighting
o HVAC (Heating, ventilation, air-conditioning) – Repair/replace components of the Library's three HVAC systems that are at, or past, end-of-useful life
The Library's Aging HVAC System – Need for Ventilation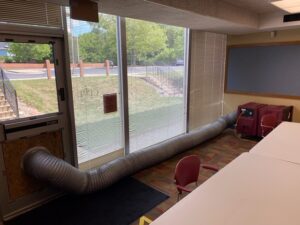 Pictured: A newly installed, temporary HEPA filter draws air from within the Library building and vents it outdoors. The filter, along with two others, were installed to help mitigate the impact of COVID-19.
o Ventilation standards under COVID-19 require more fresh air brought into the building and upgraded filter systems
o Evaluation of Crystal Lake Public Library's fragile, aging HVAC system by professionals revealed areas of great concern that impact the number of people who can safely be in tight spaces under COVID conditions
o Library staff and board members are working with professionals on temporary measures to mitigate COVID-related impacts so the Library is safe for limited staff and patrons until the larger repairs/replacements can be made starting this fall
The Importance of Efficient HVAC Systems in Public Buildings
The "missing link" in the transmission of the (Corona) virus is related to HVAC systems in public buildings such as schools and libraries, according to Stephen Ashkin, president of The Ashkin Group,  an international consulting firm working in the professional cleaning industry.
"Good ventilation is crucial to reducing the transmission of the (Corona) virus," Ashkin said in an article on CleanLink.com. "Scientific studies have found [that] people are over 18 times more likely to contract the virus indoors than outdoors, illustrating the importance of ventilation."
Click here to read the full article, "HVAC – the Missing Link in Preventing COVID-19 Transmission."