CLPL Board Taps Becky Fyolek to Serve as New Executive Director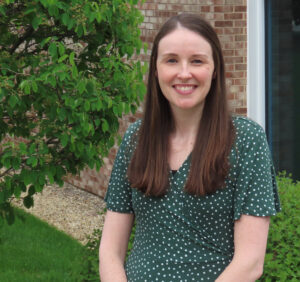 The Crystal Lake Public Library Board of Trustees has selected Becky Fyolek as the Library's new executive director. Fyolek, who served as Head of Youth Services at CLPL, replaces Kathryn I. Martens, who retired May 20 after serving as director for 31 years.
The Library Board announced Fyolek's hiring after an extensive recruitment search that started in fall 2021.
Fyolek has served as the Head of Youth Services at CLPL for the past five years. She has worked closely with Martens in developing programs and providing services that meet the community's ever-changing needs. Along the way, Fyolek built several new partnerships with community businesses and organizations to provide innovative program opportunities such as storytime programs at Panera, Fresh Thyme Farmers Market, Dream Riders TLC horse farm and Dolphin Swim Club, to name a few.
"In my time at CLPL, I've been focused on getting youth staff out into the community," Fyolek said. "They've done a great job and are working more closely with the schools, the park district and other partners. I look forward to the opportunity to expand our community engagement and really share all the ways the library can support Crystal Lake."
When COVID-19 arrived in March 2020, Fyolek and her staff collaborated with the Crystal Lake Park District to offer fun, safe programs for families in area parks. She also guided her team as they created engaging, virtual events when in-person events were not possible.
Like her predecessor, Fyolek has had a lifelong love of libraries. She started as a library page in 2004 at the East Lansing Public Library in Michigan. While attending graduate school, she worked as a children's reference assistant and supervised an after-school tutoring program staffed by Indiana University undergraduates at the Monroe County Public Library in Bloomington, Ind.
After graduating, Fyolek moved back home to the Chicago area and accepted the position of youth librarian at the Barrington Area Library, where she focused on preschool outreach and youth library collections. After marrying and starting a family, Fyolek returned to Bloomington and worked as a community engagement librarian/teen services specialist at the Monroe County Public Library. While there, she helped open two new library spaces: a teens-only hangout area and a digital creativity lab. She and her family came to Crystal Lake in 2017 when she accepted the Youth Services position.
Fyolek shares her love of libraries far and wide, and even influenced her mother to return to school in her 50s to earn a Masters of Library Science and work as a children's librarian at the Naperville Public Library.
"The Library should be a community hub, a welcoming place for all to learn, explore, meet, relax and enjoy themselves," she said.
In her free time, Fyolek and her husband John love spending time with their three children, reading, visiting libraries, baking and running from one sport to the next. When she can find a few minutes alone, Becky enjoys reading and knitting, often at the same time with an audiobook from the library's Libby collection!